New Thrive Ergonomic Work Tools
News
New Thrive Ergonomic Work Tools
Several new products from Herman Miller Group's Colebrook Bosson Saunders have been added to this supportive collection.
Herman Miller's Thrive Ergonomic Portfolio pairs human factors and ergonomics expertise with research-driven products that help people thrive no matter where they are working. Herman Miller Group's Colebrook Bosson Saunders has earned their reputation of ergonomic experts through the creation of their award winning products such as Ollin, the the world's first dynamic monitor arm that supports weights from 0 to 9kg. The latest CBS products to enter the Thrive Portfolio have the same high-quality, intuitive designs and help improve ergonomic and technology support.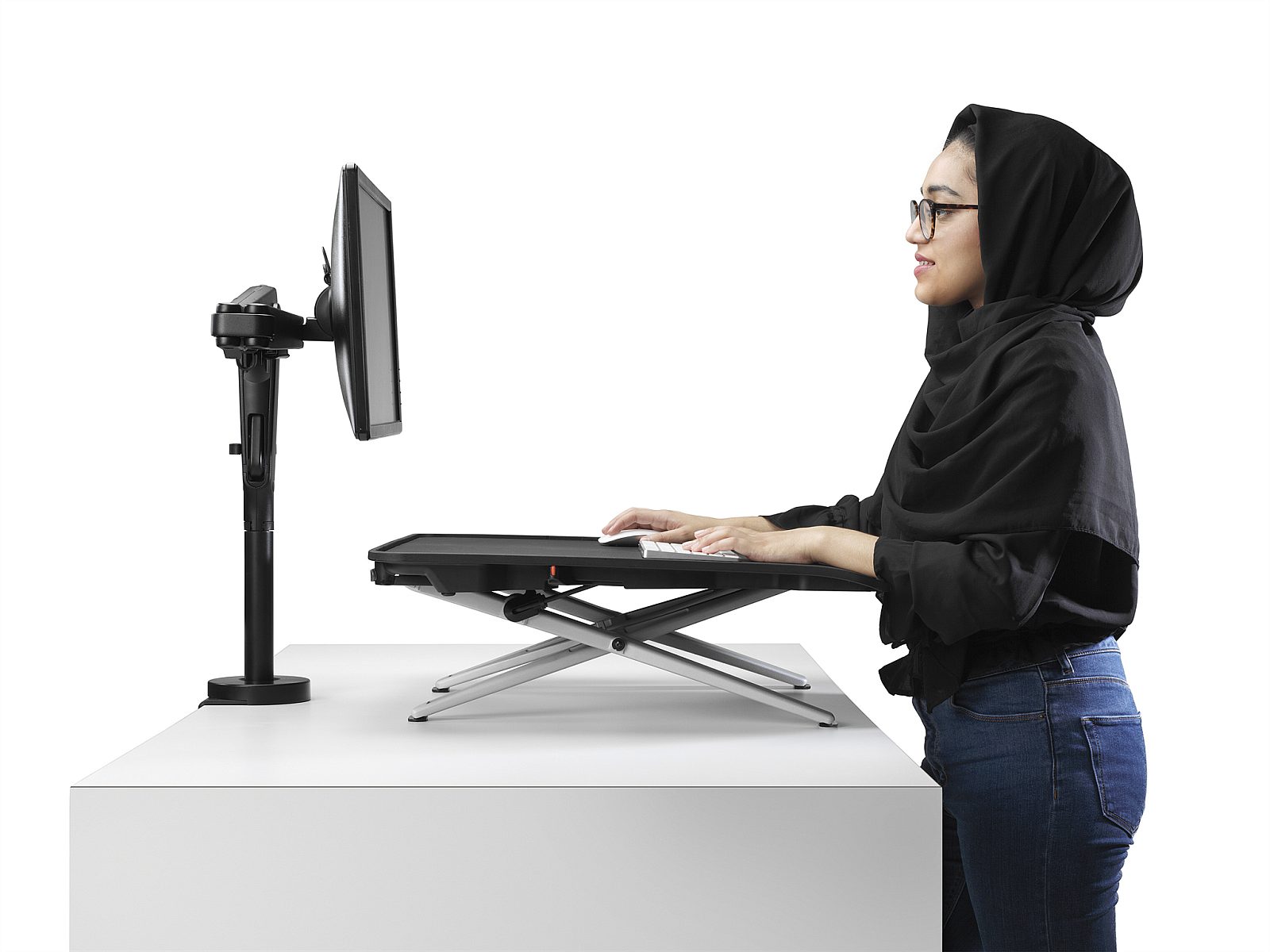 Monto Sit-Stand Riser
Monto brings sit-to-stand capability anywhere. The portable desktop riser that turns any work surface into a sit-to-stand workstation that improves comfort by encouraging motion. a spring-assisted lift mechanism lets you move effortlessly from a seated position to standing, encouraging healthy posture changes. Monto's light, lean design allows you to easily move it from one workspace to another and with it's integrated cable management clips ensures your worksurface is tidy. Learn more.
Ollin Laptop & Tablet Mount
The Ollin Laptop and Tablet Mount positions portable devices for maximum effectiveness. It easily integrates with Ollin or Flo Monitor Arms to give you control over the height, angle, and distance of your device, promoting better posture and comfort and allowing you to work more effectively. Learn more.
Lima Laptop Mount
Easily integrated with the Lima Monitor Arm, the Lima Laptop Mount positions your laptop to work harder for you. By positioning the laptop off the worksurface and at eye level you can create an ergonomic experience that allows you to work comfortably and more productively. Learn more.
Ondo Connectivity Module
Ondo tames desktop cable clutter and routes device cords to your power and data source. It helps create a clean, minimalist desktop aesthetic by corralling cords and cables and routing them to an under-desk docking station (not included), and draws on power from the docking station to provide a convenient way to charge and connect your devices at the desktop. Ondo is designed for easy attachment to the base of Ollin, Flo, and Lima CBS monitor arms. Learn more.
Loop Micro
This under-desk device mount holds lightweight, compact devices such as docking stations, thin clients, Mac Minis, or USB hubs. By keeping these compact devices off the desktop Loop Micro saves space and tames cord clutter. Learn more.
Oripura Laptop Stand
Oripura is a uniquely simple and elegant stand for use with any laptop from 11" to 16", anywhere. It's portable, foldable and ideal for creating an ergonomic workstation while in the office, working from home or on the go. It tilts the laptop to an angle that provides an easy, clear view of the screen an enables the use of a separate keyboard and mouse which are necessary for proper ergonomic posture. Learn more.